CDC warns counterfeit respirators on market may not provide appropriate protection
Posted October 1, 2020
The Centers for Disease Control and Prevention (CDC) has warned of counterfeit respirators on the market being sold as NIOSH approved, that may not provide appropriate respiratory protection.
The CDC says that NIOSH-approved respirators have an approval label on or within the packaging, either on the box itself and/or within the users' instructions, as well as an abbreviated approval on the respirator. NIOSH-approved respirators will always have one of the following designations: N95, N99, N100, R95, R99, R100, P95, P99, or P100.
Signs a respirator may be counterfeit include:
No markings on the respirator
No approval (TC) number on respirator or headband
No NIOSH markings
NIOSH is spelled incorrectly
Presence of decorative fabric or other decorative add-ons
Claims of approval for children (NIOSH does not approve any type of respiratory protection for children)
Respirator has ear loops instead of headbands
This article was written by Rachel Krubsack of J. J. Keller & Associates, Inc.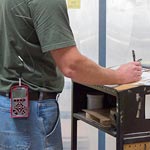 Looking for more on workplace safety?
Get the information and products you need to stay on top of industry changes and comply with regs.