Yes, the current Form I-9 is expired
Posted October 7, 2019
Oh, boy! It's been a couple years since the Form I-9 and instructions were revised, and it's up for review again. While it has expired (as of 8/31/19), you are to continue using the current version (7/17/17) until a new version is released. Although the Department of Homeland Security has requested that Form I-9 be extended without change, it must update certain administrative elements of the form and make clarifications per public recommendations.
More substantial, but not extreme, changes are proposed to the Form I-9 Instructions. Information regarding having an authorized representative complete Section 2, for example, is proposed and would be a pleasant change. If adopted, you may designate an authorized representative to act on your behalf to complete Section 2, and this representative can be anyone you designate. You are still liable for any violations and could still be subject to the employer sanctions. Having such a representative, however, can help with the rising tide of remote employees, as it can be challenging to get the Form I-9 completed in a timely manner in such situations.
Some of the more applicable proposed changes to Section 2 instructions include adding the following:
If you enter document information in List B, you should not enter document information or N/A in List A.
If you enter document information in List C, you should not enter document information or N/A in List A. If you complete Section 2 using a computer, a selection in List C will fill all the fields in the List A column with N/A.
The only real proposed change to the form itself is a country name change for Section 1 and Section 2 in the online dropdown field. The country Swaziland changed its name to Eswatini. Therefore, Eswatini is expected to be added to the Country of Issuance dropdown that appears when an employee chooses to enter a foreign passport number in Section 1 when completing Form I-9 on a computer. Swaziland will be retained at this time, in the event that there are still valid Swaziland passports.
The privacy act statement is expected to be updated, but this section hasn't historically been a challenge, as it's informational only.
The USCIS received plenty of comments — over 10,000 — regarding the revision. The USCIS is to review the comments and consider changes before publishing new forms. One of the comments simply asked for guidance on remote workers, while another asked for an entry for a fingerprint, and another asked for examples of correctly completed forms for every employee situation, complete with acceptable documents.
So, employers, carry on using the 7/17 version of the Form I-9 until further notice, and dream of the proposed improvements for the future.
This article was written by Darlene M. Clabault, SHRM-CP, PHR, CLMS, of J. J. Keller & Associates, Inc.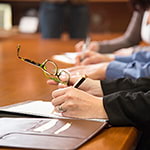 Looking for more on HR compliance?
Get the information and products you need to stay on top of industry changes and comply with regs.