Federal bill would limit noncompete agreements
Posted October 25, 2019
On October 17, Senators U.S. Senators Todd Young (R-Ind.) and Chris Murphy (D-Conn.) introduced the Workforce Mobility Act, bipartisan legislation to limit the use of non-compete agreements. A non-compete restricts or prohibits an employee from engaging in a business that competes with his or her current employer's business. Often, they prevent employees from leaving to work with an organization's competitors, usually for a specified period and in a limited geographic area.
The Workforce Mobility Act would:
Narrow the use of non-compete agreements to include only necessary instances of a dissolution of a partnership or the sale of a business.
Place the enforcement responsibility on the Federal Trade Commission and the Department of Labor, as well as a private right of action.
Require employers to make their employees aware of the limitation on non-competes. The Department of Labor would also be given the authority to make the public aware of the limitation.
Require the Federal Trade Commission and the Department of Labor to submit a report to Congress on any enforcement actions taken.
According to the Senators, 40 percent of American workers have been subject to a non-compete agreement at some point in their careers. In states where non-competes are enforced, new businesses are more likely to fail in their first three years compared to states where they are not enforced. Well-established businesses, on the other hand, might be more amenable to using the agreements.
The tight job market has causes some employers to rethink such agreements.
Instead of non-compete agreements, employers could use other legal recourses to protect their legitimate interests and property, such as trade secret protections, intellectual property protections, and non-disclosure agreements.
If signed into law, the bill would put in place restrictions for all U.S. employers, and require them to post a notice of the provisions of the Act in a conspicuous place on their premises.
Whether this bill will make it through Congress remains to be seen.
This article was written by Darlene M. Clabault, SHRM-CP, PHR, CLMS, of J. J. Keller & Associates, Inc.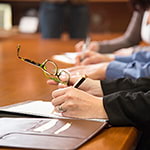 Looking for more on HR compliance?
Get the information and products you need to stay on top of industry changes and comply with regs.