Settling a workers' comp claim does not waive FMLA rights
Posted October 5, 2017
We often get asked if an employee who is off work due to a workplace injury and receiving workers' compensation benefits, is also entitled to leave under the Family and Medical Leave Act (FMLA). The answer: If the workplace injury meets the definition of a serious health condition, YES. Thanks to a recent case, we have an answer to the following somewhat related question:
If an employee agrees to settle a workers' compensation claim, does he also waive his FMLA rights?
The Third Circuit Court of appeals has provided us with an answer. First, the setup.
Jake, an employee, suffered a workplace injury and filed a workers' compensation claim and took time off work for his injury. He returned to work, but for reasons the court's decision did not provide, he was subsequently fired.
Jake signed an agreement releasing the employer from any claims regarding Jake's workplace injury, thereby settling his workers' compensation claim. In return, Jake received a lump sum payment. That, however, did not stop him from suing his employer, claiming that it interfered with his FMLA rights by failing to notify him of those rights and not designating his leave as FMLA leave.
The employer argued that Jake waived his FMLA rights when he signed the agreement.
The court opined that, based on the language of the agreement, the parties involved did not intend it to cover the FMLA. The agreement released the employer of all aspects of the alleged work injury. This prohibited Jake from bringing an additional work injury claim. Jake, however, brought a suit for interfering with his FMLA rights, not an additional work injury claim. Therefore, the agreement did not prohibit Jake's FMLA claim.
Therefore, the court allowed the case to proceed.
Different laws, different protections
The FMLA and workers' compensation provide for very different protections. Under workers' compensation, employees relinquish the right to sue their employers for work-related injuries in return for medical and disability benefits. The FMLA, on the other hand, provides for job-protected leave for certain qualifying reasons.
Even if an employee waives his rights to challenges regarding a workers' compensation claim, he does not necessarily waive his rights to other claims, including the FMLA.
The FMLA regulations indicate that employees can't waive their prospective FMLA rights. This provision, however, does not prevent the settlement or release of FMLA claims by employees based on past employer conduct without the approval of the Department of Labor or a court.
Therefore, an agreement waiving retrospective FMLA rights may be valid, as long as it includes the appropriate language. The agreement Jake signed did not.
Zuber v. Boscov's, Third Circuit Court of Appeals, No. 16-3217, September 11, 2017
---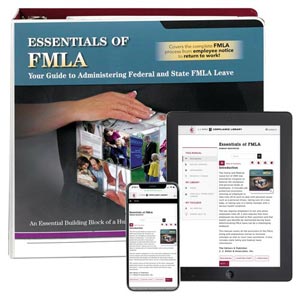 J. J. Keller's Essentials of FMLA manual helps HR pros understand and comply with the FMLA rules, control costs related to leave taken, and minimize the law's potential disruption to their organizations' operations.
---
J. J. Keller's FREE HRClicks™ email newsletter brings quick-read human resources-related news right to your email inbox.