HR director sentenced to two years in prison for falsifying immigration documents
Posted October 27, 2017
A Dallas-area school district human resources executive was sentenced to 24 months in federal prison and ordered to pay $317,482 in restitution for falsifying immigration documents.
The HR director pleaded guilty in May 2017 to one count of conspiracy to commit false statements in connection with immigration documents. He was ordered to surrender to the Bureau of Prisons on January 28, 2018.
According to plea documents, the HR director was employed by a Texas school district from 1998 to 2013. The HR director was responsible for recruiting teachers from Mexico, Central and South America, and the Philippines to fill open teaching positions in the school district. From around 2007 to around 2012, the HR director engaged in a criminal conspiracy with outside recruiters to recruit and hire foreign teachers that the school district did not necessarily need.
The HR director reportedly received kickbacks in the form of inflated fees to teach orientation classes, travel, and other forms of remuneration. After the foreign teachers were employed at the school district on H-1B temporary visas, the HR director knew they were unlikely to qualify for Form 9089s (Applications for Permanent Employment Certification). To further the conspiracy, the HR director knowingly signed and filed falsified Form 9089s with the Department of Labor (DOL) to sponsor the teachers for employment-based permanent resident applications.
The HR director admitted that from August 27, 2012, to December 6, 2012, he signed and filed 38 Form 9089s for the school district in which he knowingly made false statements. In each Form 9089, the HR director certified that all U.S. workers who applied for the job opening were rejected for lawful job-related reasons when the HR director knew this was not the case. To support these false statements, the HR director created recruitment reports which contained additional false statements regarding the number of U.S. applicants for the open positions and the reasons for the rejection of the U.S. applicants. The HR director had these recruitment reports submitted to DOL to support the falsified Form 9089s that were also submitted.
This case was jointly investigated by the U.S. Immigration and Customs Enforcement's (ICE) Homeland Security Investigations (HSI), the Department of Labor's Office of the Inspector General, the Department of Education's Office of the Inspector General, and the Federal Bureau of Investigation (FBI).
---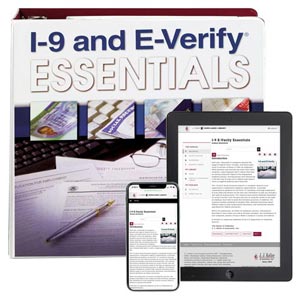 J. J. Keller's I-9 and E-Verify Essentials Manual contains up-to-date info on new Form I-9 requirements and the entire employment authorization process.
---
J. J. Keller's FREE HRClicks™ email newsletter brings quick-read human resources-related news right to your email inbox.