Regional Emphasis Program targets tree, landscape operations in New England
Posted September 17, 2021
OSHA's Boston regional office has established a Regional Emphasis Program (REP) in Region 1, focused on tree and landscape operations, citing thirty-one fatalities in five years as 'alarming' and 'unacceptable.'
OSHA inspections have identified occurrences such as workers falling from trees and aerial lifts, being struck by falling trees and tree limbs, electrocution or shock from contact with live electrical wires, suffering lacerations caused by saws and other equipment, sustaining injuries from vehicle collisions, and being struck by or caught between mechanical equipment.
The program's initial phase includes outreach to employers, workers, and stakeholder groups by each OSHA area office in New England prior to beginning enforcement activities in November 2021. This outreach can include presentations, informational mailings, articles in trade newsletters, and other activities.
OSHA will then conduct programmed inspections of tree, landscape, and site preparation worksites. OSHA inspectors will also be able to open inspections on the spot if they observe hazardous conditions while traveling past worksites in the course of their duties.
OSHA encourages industry employers to take steps to identify, reduce, and eliminate hazards related to tree trimming and site preparation and implement safety strategies during the REP's initial phase.
This article was written by Rachel Krubsack of J. J. Keller & Associates, Inc.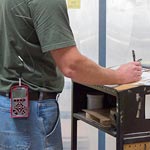 Looking for more on workplace safety?
Get the information and products you need to stay on top of industry changes and comply with regs.