Agencies announce immediate stop to Navigable Waters Protection Rule
Posted September 10, 2021
As a result of a recent court order coming from the U.S. District Court of Arizona, EPA and the U.S. Army Corps of Engineers (ACOE) have stopped implementation of the Navigable Waters Protection Rule. On August 10, 2021, the Arizona court order vacated and remanded the rule in the case of Pascua Yaqui Tribe v. U.S. Environmental Protection Agency. The subsequent announcement by EPA and ACOE includes the clarification that, for the time being, the agencies will return to using the pre-2015 interpretation of "waters of the United States," also known as WOTUS.
This recent court ruling further emphasizes and prioritizes previously announced plans to rework the definition of WOTUS and replace the Navigable Waters Protection Rule. That rulemaking was initially announced on June 19, 2021, with the goal of "crafting a durable definition of "waters of the United States" that is informed by diverse perspectives and based on an inclusive foundation."
This article was written by Laura Verity of J. J. Keller & Associates, Inc.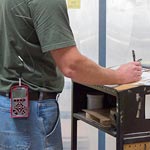 Looking for more on workplace safety?
Get the information and products you need to stay on top of industry changes and comply with regs.