OSHA publishes company-specific injury rates online
Posted September 9, 2020
If you've submitted data through OSHA's electronic Injury Tracking Application, you should know that the data is now available online to the public. This data, for calendar years 2016 – 2018, contains the establishment name, address, hours worked, and basic information on the number and type of injuries. It does not contain employee names.
The current OSHA administration had decided not to release the information, but that move was met with several legal challenges, at least one of which OSHA lost in the Northern District of California.
For now, employers should be aware that the data is out there. How it will impact any particular employer remains to be seen. It is possible that news outlets, potential workers, advocacy groups, and others may use the data, bringing into focus your company's injury and illness records. If misinterpreted, some of the data might paint companies in a less-than-favorable light.
Companies should inform upper management and the communications team to determine a strategy to address any negative press.
This article was written by Rachel Krubsack of J. J. Keller & Associates, Inc.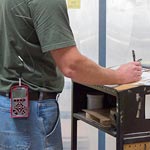 Looking for more on workplace safety?
Get the information and products you need to stay on top of industry changes and comply with regs.