Getting ready for the HOS changes: 30-minute breaks
Posted September 3, 2020
The new federal hours-of-service (HOS) rules could provide your drivers with a lot more flexibility — and your company with more productivity.
Effective September 29, 2020, the changes impact four areas of the HOS rules in 49 CFR Part 395:
The 30-minute break rule,
The 100-air-mile exception,
The sleeper-berth provisions, and
The exception for "adverse driving conditions."
It is important that drivers, dispatchers, and others at the motor carrier who are affected by these changes apply the rules correctly — or face the risk of increased liability.
The first topic, in part one of a four-part series, is the 30-minute break for property-carrying drivers operating commercial motor vehicles (CMVs) in interstate commerce.
Old vs. new rule
This rule (49 CFR §395.3(a)(3)(ii)) is designed to make sure truck drivers get a break from driving if they intend to continue driving late into the day.
Current / Old Rule

New Rule

A 30-minute rest break is required after 8 consecutive hours on the clock if the driver will continue to drive a CMV.
Drivers must be off duty and/or in a sleeper berth for their breaks.

A 30-minute break from driving is required after accumulating 8 hours of driving time if the driver will continue to drive a CMV.
Drivers may remain on duty (not driving) for their breaks.

What's are the advantages of the new rule?
Impacts of the new rule include the following:
Anything a driver does for 30 consecutive minutes besides driving a CMV will count as a valid break.
A break will be needed only by those who drive a CMV more than 8 hours per workday. Fewer drivers, therefore, will need the break to remain in compliance, which will reduce violations.
Many drivers will have the flexibility to shift their breaks to a later point in the workday (after 8 driving hours rather than 8 consecutive hours after starting the workday).
Drivers will gain productivity since they need only stop driving for their break, they can continue to perform other work activities. They will be able to load/unload, fuel, do vehicle inspections or paperwork, or engage in other work activities during the 30-minute break.
Some segments of the industry already have a special exemption allowing them to remain on duty for their breaks, such as haulers of explosives or ready-mix concrete. Those exemptions will no longer be necessary.
Cautions to consider

Even with the advantages of the new 30-minute break requirement, driving while fatigued is still prohibited, making off-duty rest breaks an important option for many drivers. Company policies may still require drivers to log off duty for their breaks.

Parking shortages will not be an excuse to violate the rule. Drivers should not wait until they drive nearly 8 hours before seeking a place to park for their break.
And, finally, be sure to consult with an HR professional for guidance on complying with state labor laws if your state mandates rest breaks.
This article was written by Kathy Close of J. J. Keller & Associates, Inc.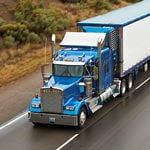 Looking for more on transportation safety?
Get the information and products you need to stay on top of industry changes and comply with regs.