EPA, Army repealing 2015 rule defining "Waters of the United States"
Posted September 16, 2019
At an event in Albany, New York, on September 12, EPA Regional Administrator Pete Lopez announced that EPA and the Department of the Army are repealing a 2015 rule that expanded the definition of "waters of the United States" (WOTUS) under the Clean Water Act (CWA). The agencies also are recodifying the regulatory text that existed prior to the 2015 rule.
EPA says the final rule is the first step in a two-step rulemaking process to define the scope of "waters of the United States" that are regulated under the CWA. According to EPA, Step 1 provides regulatory certainty as to the definition of "waters of the United States" following years of litigation surrounding the 2015 rule.
In December 2018, EPA and the Army proposed a new definition—Step 2—that would define where federal jurisdiction begins and ends in accordance with the CWA and Supreme Court precedent. In the proposal, the agencies provide a definition of the difference between federally regulated waterways and those waters that remain solely under state authority.
With this final repeal, the agencies will implement the pre-2015 regulations, that are currently in place in more than half of the states. The final rule takes effect 60 days after publication in the Federal Register.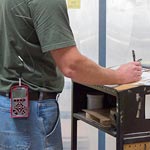 Looking for more on workplace safety?
Get the information and products you need to stay on top of industry changes and comply with regs.