What to expect from an OFCCP compliance evaluation
Posted September 21, 2018
If you're a federal contractor, you have certain responsibilities, and the Department of Labor's Office of Federal Contractor Compliance Program (OFCCP) wants to make sure you meet their requirements. Therefore, the OFCCP might perform compliance evaluations. Knowing what to expect during such evaluations can help you prepare.
According to a new OFCCP directive, staff must follow the procedures during evaluations:
Delay scheduling until 45 days after Corporate Scheduling Announcement Letters (CSAL) are issued.
Publish on the Internet OFCCP's supply and service scheduling methodology.
Contact the contractor within 15 days of sending the CSAL, provide an overview of the basic steps in the compliance evaluation process, and offer technical assistance.
Provide a 30-day extension for contractors to provide supporting data related to the EO 11246, VEVRAA and Section 503 AAPs in certain situations.
If the contractor fails to submit AAPs and/or supporting data timely, with approved extensions, an immediate issuance of a Notice to Show Cause why OFCCP should not initiate enforcement proceedings is issued. During this period, the contractor will have an additional 30 days to provide the AAPs and supporting data in response the Notice to Show Cause.
Upon receiving the AAPs and/or supporting data, contact the contractor or their representative immediately to confirm receipt. Begin the desk audit promptly, ideally within five days after receiving the AAPs.
Review the AAPs and supporting data submission to make sure they are complete and acceptable. Notify the contractor of any incomplete or unacceptable desk audit submission and allow the contractor 15 days to provide a complete and acceptable submission.
Begin the analysis of supporting data only after the AAPs and supporting data are complete and acceptable.
Contact the contractor to request follow-up information at the desk audit only to fulfill, and if necessary clarify, the data requests required by the CSAL and Itemized Listing.
Work to close reviews quickly where there are no indicators of discrimination or evidence of other violations.
As necessary, prepare supplemental requests for data and information beyond the items provided in response to the CSAL and Itemized Listing.
Include a high-level summary of any preliminary indicators of discrimination in the onsite confirmation letter.
Begin the offsite analysis immediately once the onsite is complete.
Maintain regular contact with the contractor or their representative.
This article was written by Darlene M. Clabault, SHRM-CP, PHR, CLMS, of J. J. Keller & Associates, Inc.
---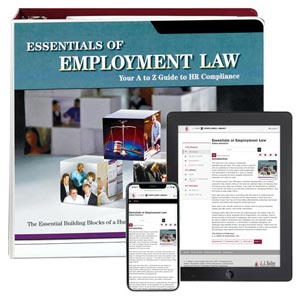 J. J. Keller's Essentials of Employment Law Manual covers more than 100 vital HR topics, including FMLA, ADA, HIPAA, FLSA, COBRA and more.
---
J. J. Keller's FREE HRClicks™ email newsletter brings quick-read human resources-related news right to your email inbox.