NLRB proposes joint employer rules
Posted September 17, 2018
The National Labor Relations Board (NLRB) published a Notice of Proposed Rulemaking in the September 14, 2018, Federal Register regarding its joint-employer standard. Under the proposed rule, an employer may be found to be a joint employer of another employer's employees only if it possesses and exercises substantial, direct, and immediate control over the essential terms and conditions of employment and has done so in a manner that is not limited and routine. Indirect influence and contractual reservations of authority would no longer be sufficient to establish a joint-employer relationship.
Joint employers may be compelled to bargain in good faith with a representative of the jointly-employed workers, may be found jointly and severally liable for unfair labor practices committed by the other employer, and may determine whether picketing directed at a particular business is primary and lawful, or secondary and unlawful.
The proposed rule attempts to foster predictability, consistency, and stability in the determination of joint-employer status. The proposed rule reflects the NLRB majority's initial view, subject to potential revision in response to public comments, that the National Labor Relations Act's intent is best supported by a joint-employer doctrine that does not draw third parties, who have not played an active role in deciding wages, benefits, or other essential terms and conditions of employment, into a collective-bargaining relationship for another employer's employees.
The proposed rule would reverse the current one, established in 2015 in Browning-Ferris Industries of California, Inc., which states that a company must exhibit only the potential to exert control over terms and conditions of employment, rather than have "direct and immediate" control as had been the previous rule, to be considered responsible for decisions related to worker wages and working conditions, including labor law violations.
Whether one business is the joint employer of another business's employees is one of the most important issues in labor law today. There are myriad relationships between employers and their business partners, such as those involved in the gig economy, and the degree to which particular business relationships impact employees' essential terms and conditions of employment varies widely.
For example, in Floyd Epperson, (6th Cir. 1974), the NLRB found that a dairy company was the joint employer of truck drivers supplied to it by an independent trucking firm based on evidence of both the dairy's direct control and indirect control over the working conditions of the trucking firm's drivers. The Browning-Ferris majority viewed the common-law concept of the ''right to control'' the manner and means of a worker's job performance — used to distinguish a servant (i.e., employee) from an independent contractor — as precluding, or at least counseling against, any requirement of exercise of direct and immediate control in the joint-employment context.
If you have comments on the proposed rule, you are invited to submit them within 60 days, either electronically to the Federal eRulemaking Portal, or by mail or hand-delivery to Roxanne Rothschild, Deputy Executive Secretary, National Labor Relations Board, 1015 Half Street S.E., Washington, D.C. 20570-0001.
This article was written by Darlene M. Clabault, SHRM-CP, PHR, CLMS, of J. J. Keller & Associates, Inc.
---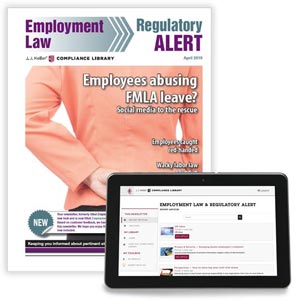 J. J. Keller's Employment Law Today newsletter explains why you need to care, what you need to do and how your business could be affected by HR industry news.
---
J. J. Keller's FREE HRClicks™ email newsletter brings quick-read human resources-related news right to your email inbox.