Time's up for construction employers to meet OSHA's Respirable Crystalline Silica rule
Posted September 21, 2017
Construction employers had three extra months to meet the revised requirements of OSHA's Silica Rule, but the September 23, 2017, compliance deadline is finally here. OSHA had delayed enforcement of the construction Respirable Crystalline Silica standard at 29 CFR 1926.1153 to allow employers time to understand the new requirements.
The construction respirable crystalline silica standard applies to workers who may be exposed to crystalline silica on the job, except where exposures will remain below 25 micrograms per cubic meter (25 μg/m3) of air as an 8-hour time-weighted average under all foreseeable conditions.
Respirable crystalline silica includes quartz, cristobalite, or tridymite contained in airborne particles that can be inhaled. According to OSHA, the silica rule will curb lung cancer, silicosis, chronic obstructive pulmonary disease, and kidney disease in workers by limiting their exposure to respirable crystalline silica.
Construction employers can use a control method found in Table 1, or they can choose to measure workers' exposures to silica and independently decide which dust controls are the best option for limiting exposures in the workplace.
All construction employers covered by the standard must:
Establish and implement a written control plan identifying tasks that involve exposure and methods used to protect workers, including procedures to restrict access to work areas where high exposures may occur.
Designate a competent person to implement the written exposure control plan.
Restrict housekeeping practices that expose workers to silica where feasible alternatives are available.
Offer medical exams — including chest X-rays and lung function tests — every three years for workers who are required by the standard to wear a respirator for 30 or more days per year.
Train workers on work operations that result in silica exposure and ways to limit exposure.
Keep records of workers' silica exposure and medical exams.
OSHA has also developed new requirements applying to respirable crystalline silica for general industry and shipyards. Those standards do not take effect until June 23, 2018.
---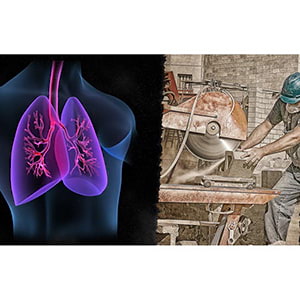 J. J. Keller's Crystalline Silica for Construction - Online Course addresses critical information construction workers must be aware of regarding the dangers of respirable crystalline silica.
---
J. J. Keller's FREE Workplace SafetyClicks™ email newsletter brings quick-read workplace safety and compliance news right to your email box.