Small business advocate recommends OSHA suspend beryllium regs for construction, shipyards
Posted September 1, 2017
The U.S. Small Business Administration Office of Advocacy (Advocacy) submitted comments to OSHA on the Agency's recent proposed rule to remove the ancillary provisions for construction and shipyards from the final beryllium rule. Advocacy says its comments reflect issues raised in roundtable discussions with small businesses and federal representatives.
OSHA's January 9, 2017, final beryllium rule retains the new lower permissible exposure limit (PEL) of 0.2 mg/m3, measured as an eight-hour time-weighted average, and the short-term exposure limit (STEL) of 2.0 mg/m3 over a 15-minute sampling period for each sector.
In its letter to OSHA, Advocacy recommended the Agency consider significant alternatives to the proposed rule that would minimize economic impacts on small businesses, including a rule that would apply only to abrasive blasting and welding. Advocacy claims that except for the abrasive blasting industry, neither the construction nor shipyard sectors were represented in the small business review panel process. In addition, these industries were not given adequate notice that the final beryllium rule would apply to them.
Small businesses told Advocacy that OSHA lacks sufficient information about the health risks from naturally occurring beryllium exposures in materials used in the construction and shipyard sectors. Advocacy advised OSHA to consider suspending the PEL and STEL while developing a more complete record of the health effects of naturally occurring beryllium exposures in the construction and shipyard sectors.
Advocacy urged OSHA to convene a new small business panel for the construction and shipyard sectors before including them in any new final rule.
---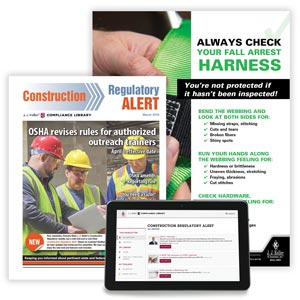 J. J. Keller® Construction Regulatory Update keeps you up-to-date with 1926 regulatory changes and new safety information.
---
J. J. Keller's FREE Workplace SafetyClicks™ email newsletter brings quick-read workplace safety and compliance news right to your email box.