Congress submits bills that would alter the FMLA
Posted September 22, 2017
As in the past, Congress continues to present bills that would alter the Family and Medical Leave Act (FMLA) in various ways.
Measure one
The Healthy Families Act, for example, would amend the Internal Revenue Code to:
Allow certain employers a business-related tax credit for a specified percentage (not to exceed 25 percent) of the amount of wages paid to their employees during any period (not exceeding 12 weeks) in which such employees are on family and medical leave,
Limit the allowable amount of such credit with respect to any employee to the product of the normal hourly wage rate of such employee for each hour (or fraction thereof) of actual services performed for the employer and the number of hours (or fraction thereof) for which family and medical leave is taken, and
Terminate such credit five years after the enactment of the bill.
The goal of the bill is to encourage employers to offer employees up to 12 weeks of paid leave for parents to care for sick children, for new mothers who need time off, and for children to care for sick parents.
The tax credit would be limited to employees making $72,000 per year or less, or an amount equal to 60 percent of the current definition of a highly compensated employee. The bill would also allow businesses to provide less than 100 percent salary replacement, but those employers would receive a less generous tax credit.
This bipartisan bill was introduced by Representatives Mike Kelly (R-PA) and Terri Sewell (D-Ala.) as well as Senators Deb Fisher (R–Neb) and Angus King (I-Maine).
Measure two
Another measure, the Family Leave for Parental Involvement in Education Act, would allow employees to take time off, beyond the 12 weeks of FMLA leave, to participate in or attend their children's and grandchildren's educational and extracurricular activities.
More specifically, an eligible employee would be entitled to up to 8 hours during any 30-day period, or 48 hours during any 12-month period, to attend or participate in a school conference or any activity that is sponsored by a school or community organization and relates to a program of the school or organization that is attended by a child or grandchild of the employee.
Such leave, logically, could be taken intermittently or on a reduced schedule. Employees would be expected to provide at least seven days' notice of the leave. Employers could also request certifications supporting the need for leave.
This bill was introduced by Representative Wilson (D-FL), but has no cosponsors at this time.
Both measures have been referred to committees.
This article was written by Darlene Clabault of J. J. Keller & Associates, Inc.
---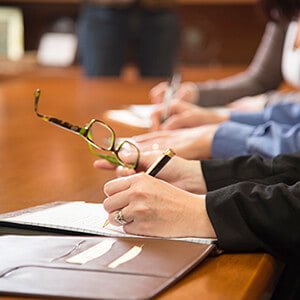 J. J. Keller's Family and Medical Leave Act (FMLA) Consulting Services can help your company ensure compliance with FMLA requirements and minimize the law's burden to your organization.
---
J. J. Keller's FREE HRClicks™ email newsletter brings quick-read human resources-related news right to your email inbox.