OSHA enforcement initiative targets transportation tank cleaning operations in four states
Posted August 6, 2021
Effective July 23, OSHA has launched a new enforcement initiative to target transportation tank cleaning operations in Arkansas, Louisiana, Oklahoma, and Texas. Workers employed in the industry face many hazards that can lead to serious injury, illness, and death, including fire, explosions, hazardous atmosphere, and hazardous chemicals.
The targeted industries are:
| | |
| --- | --- |
| NAICS | Description |
| 484110 | General Freight Trucking, Local |
| 488210 | Support Activities for Rail Transportation |
| 488490 | Other Support Activities for Road Transportation |
| 488510 | Freight Transportation Arrangement |
| 562910 | Remediation Services |
| 562920 | Materials Recovery Facilities |
| 562998 | All Other Miscellaneous Waste Management Services |
The initiative provides OSHA enforcement officers in the abovementioned states the authority to evaluate the employers' workplace(s) at all programmed, unprogrammed, or other limited-scope inspections pertaining to transportation tank cleaning operations to assure that employees are being properly protected.
Area Offices will normally conduct inspections for all complaints, formal or non-formal, which contain allegations of potential worker exposure to hazards associated with transportation tank cleaning. Where applicable, Area Offices will expand all unprogrammed inspections to include all potential hazard areas addressed by the initiative.
Outreach, consultation services, and training will be provided to affected employers as requested.
This article was written by Rachel Krubsack of J. J. Keller & Associates, Inc.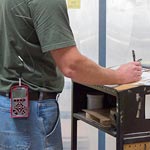 Looking for more on workplace safety?
Get the information and products you need to stay on top of industry changes and comply with regs.