You (hopefully don't) have (this) mail
Posted August 12, 2020
On March 21, 2020, in response to the COVID-19 pandemic, the EEOC temporarily suspended some enforcement activities. On August 3, the agency began again reviewing charge resolution recommendations and issuing Notices of Right to Sue (Notices) both for charges that were held in suspense, as well as for charge resolutions that occur on and after Monday, August 3, 2020.
The Notices held in suspense will be issued over the course of the next six to eight weeks beginning with those that have been in suspense the longest. All Notices will be issued by mail. Watch your mailbox!
Once a charging party (e.g., an irritated employee) receives a Notice, a lawsuit must be filed within 90 days of their receipt of that notice. This deadline is set by law and cannot be changed by the EEOC. A charging party must file a lawsuit within the established timeframe or may be prevented from going forward with the lawsuit.
Another action the EEOC reinstated is the issuance of charge closure documents unless a charging party requested them. Recognizing that further delays in issuing charge closure documents could negatively impact both parties' ability to protect and exercise their rights effectively, the EEOC is resuming its issuance of these documents.
The EEOC has the authority to sue employers for violations of Title VII of the Civil Rights Act, the Americans with Disabilities Act (ADA), the Age Discrimination in Employment Act (ADEA), the Equal Pay Act (EPA) and the Genetic Information Nondiscrimination Act (GINA).
The EEOC files employment discrimination lawsuits in select cases. When deciding whether to file a lawsuit, the agency will consider several factors, including the seriousness of the violation, the type of legal issues in the case, and the wider impact the lawsuit could have on EEOC efforts to combat workplace discrimination. Because of limited resources, EEOC cannot file a lawsuit in every case where discrimination has been found.
In 2019, the EEOC filed 157 suits, with $31.9 million in monetary benefits. The agency received 72,675 charges, resulting in $346.6 million in monetary benefits.
This article was written by Darlene Clabault of J. J. Keller & Associates, Inc.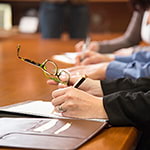 Looking for more on HR compliance?
Get the information and products you need to stay on top of industry changes and comply with regs.