FMCSA publishes notice seeking comments regarding transparency in property broker transactions
Posted August 24, 2020
The Federal Motor Carrier Safety Administration (FMCSA) is seeking comments regarding transparency in property broker transactions. Two independent organizations, the Owner-Operator Independent Drivers Association (OOIDA) and the Small Business in Transportation Coalition (SBTC), have petitioned the FMCSA to write rules providing carriers greater access to the full record of the transaction as required in the regulations.
OOIDA requested that FMCSA require property brokers to automatically provide an electronic copy of each transaction record and to explicitly prohibit brokers from including any provision in their contracts that requires a motor carrier to waive its rights to access the transaction records. The SBTC made a similar request. In addition, the SBTC also requested that agency adopt rules indicating that a brokers' contract cannot include a stipulation that would exempt the broker from having to comply with the transparency requirement.
The FMCSA is seeking comments through October 19, 2020.
This article was written by Rick Malchow of J. J. Keller & Associates, Inc.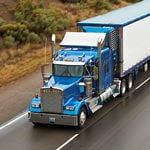 Looking for more on transportation safety?
Get the information and products you need to stay on top of industry changes and comply with regs.