FMCSA declares regional emergency due to Marco and Laura
Posted August 28, 2020
Regulatory relief has been granted to motor carriers and drivers providing direct assistance in the aftermath created by Hurricanes Marco and Laura.
The Federal Motor Carrier Safety Administration's (FMCSA) Southern and Western Service Centers issued a Regional Emergency Declaration for Alabama, Louisiana, Mississippi, and Texas. Qualifying motor carriers and drivers are exempt from 49 CFR Parts 390 through 399, except as otherwise restricted in the Emergency Declaration.
The declaration was effective August 25, 2020, and remains in effect for the duration of the emergency or until 11:59 P.M. (ET), September 23, 2020, whichever is less.
Requirements that remain intact
The Emergency Declaration does not exempt motor carriers and drivers from complying with:
FMCSA drug and alcohol testing requirements (49 CFR Part 382),
Commercial driver's license requirements (49 CFR Part 383),
Financial responsibility (insurance) requirements (49 CFR Part 387),
Hazardous material regulations (49 CFR Parts 100-180),
Applicable size and weight requirements, or
Any other portion of the regulations not specifically authorized pursuant to §390.23.
Motor carriers or drivers currently subject to an out-of-service order are not eligible for the relief granted by this declaration until they have met the applicable conditions for its rescission and the order has been rescinded by FMCSA.
What is direct assistance?
The hurricanes created emergency conditions that require the immediate transportation of supplies, goods, equipment, fuel, and persons.
Direct assistance is transportation and other relief services provided by a motor carrier or its driver(s) related to the immediate restoration of essential services or supplies. It does not include transportation related to long-term rehabilitation of damaged physical infrastructure or routine commercial deliveries after the initial threat to life and property has passed.
When direct assistance ends
Direct assistance ends when a driver or commercial motor vehicle is used in interstate commerce to transport cargo not destined for the emergency relief effort, or when the motor carrier dispatches the driver or commercial motor vehicle to another location to begin operations in commerce.
After emergency work is complete, drivers are again subject to the regulations with one exception. A driver may return empty to the motor carrier's terminal or the driver's normal work reporting location without complying with Parts 390-399.
When a driver is moving from emergency relief efforts to normal operations, a 10-hour break is required when the total time a driver operates while conducting emergency relief efforts, or a combination of emergency relief and normal operation, equals 14 hours.
This article was written by Kathy Close of J. J. Keller & Associates, Inc.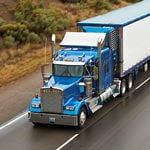 Looking for more on transportation safety?
Get the information and products you need to stay on top of industry changes and comply with regs.