OSHA recommends using leading indicators to strengthen workplace safety and health programs
Posted August 12, 2019
A new OSHA webpage describes how to use leading indicators as part of a robust workplace safety and health program. The webpage, titled "Using leading indicators to improve safety and health outcomes," says that leading indicators are "proactive and preventative measures" that help gauge the effectiveness of a company's safety and health efforts and can shed light on potential problems.
OSHA compares leading indicators to lagging indicators, saying that lagging indicators measure past events, while leading indicators may alert you to the existence of a hazard. Examples of lagging indicators are the number or rate of injuries, illnesses, and fatalities. On the other hand, leading indicators can tell you if your safety and health program is effective in preventing incidents. Examples of leading indicators include the number of employees who attend monthly safety meetings or training or instituting a proactive safety activity, such as daily inspecting and clearing high-traffic.
A good safety and health program uses both leading and lagging indicators to drive change and measure effectiveness.
According the new webpage, leading indicators can improve organizational performance in several ways, including:
Preventing workplace injuries and illnesses;
Reducing costs associated with incidents;
Improving productivity and overall organizational performance;
Optimizing safety and health performance; and
Raising worker participation.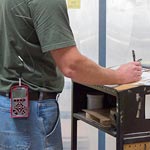 Looking for more on workplace safety?
Get the information and products you need to stay on top of industry changes and comply with regs.