OSHA and Health Canada release joint HazCom guidance
Posted August 19, 2019
OSHA and Health Canada announced that in keeping with the Regulatory Cooperation Council Work Plan for workplace chemicals, they have developed guidance on three subjects in order to support implementation of the Globally Harmonized System of Classification and Labeling of Chemicals (GHS).
The guidance includes:
Comparison of U.S. and Canada's Regulatory Process for Hazardous Products in the Workplace,
Label Comparison for Shipped Containers, and
Labeling Pictogram for Hazards Not Otherwise Classified (HNOC), Physical Hazards Not Otherwise Classified (PHNOC) and Health Hazards Not Otherwise Classified (HHNOC).
The Canada - United States Regulatory Cooperation Council (RCC) was created in 2011 to reduce unnecessary differences between regulatory frameworks and better align the two countries' regulatory approaches, where possible.
The guidance can be found on the Hazard Communication topic page of OSHA's website and on the Occupational Health and Safety page on the Government of Canada's website.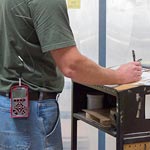 Looking for more on workplace safety?
Get the information and products you need to stay on top of industry changes and comply with regs.