New enforcement process for California truck, bus regulation
Posted August 19, 2019
Beginning January 1, 2020, the California Air Resources Board's (CARB) Truck and Bus Regulation will be enforced through a new automatic process.
Senate Bill 1, the Road Repair and Accountability Act of 2017, was signed into law, stating that the California Department of Motor Vehicles must check that vehicles are compliant with, or exempt from, CARB's Truck and Bus Regulation.
Nearly all diesel-fueled trucks, buses, and school buses will be subjected to the rule as of the January 1 deadline:
Vehicles weighing 14,001 to 26,000 pounds gross vehicle weight rated (GVWR) with engine model years 2003 or older need to be replaced or repowered with a 2010 or newer model year engine.
Vehicles greater than 26,000 pounds GVWR with engine model year 1999 or older need to be replaced or repowered to a 2010 or newer model year engine.
Low-use exemption for vehicles that travel less than 1,000 miles are available. Vehicles that are operated in certain areas of the state with cleaner air may be eligible to use the NOx exempt area extension to phase-in a diesel particulate matter filter retrofits.
Several funding opportunities for the retrofits are offered by CARB, including incentives for zero-emission trucks and buses, or loan assistance for purchasing new vehicles or engines.
CARB has the authority to pace a DMV registration hold on any vehicles that do not meet the regulatory requirements.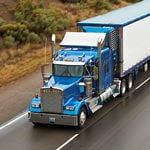 Looking for more on transportation safety?
Get the information and products you need to stay on top of industry changes and comply with regs.