NHTSA reveals plans to explore mirrorless large trucks
Posted August 30, 2019
The National Highway Traffic Safety Administration (NHTSA) revealed plans to research the viability of camera-based visibility systems as an option for large trucks instead of traditional rearview mirrors.
NHTSA outlined the plan in a notice to be published later this week in the Federal Register as part of a multi-year effort to learn more about the use of the cameras.
According to the notice, NHTSA will first research the impact on light vehicles before moving on to researching camera systems on heavy trucks.
Participants would be truck drivers who operate a test vehicle with a camera-based system instead of original mirrors, or a combination of both. The tests would include track and on-road driving under various conditions.
Drivers who are interested in participating in the study would have to complete a questionnaire before being considered. They must also hold a valid commercial driver's license in the U.S. and drive at least 11,000 miles annually.
The use of mirrorless trucks is already taking place in the industry. The Federal Motor Carrier Safety Administration granted permission for one manufacturer to sell a system that can replace the traditional mirror system earlier this year.
Stoneridge Inc., a Michigan-based technology company, has the only system that can be installed as an alternative to two exterior rear-vision mirrors required by the Federal Motor Carrier Safety Regulations under 49 CFR §393.80.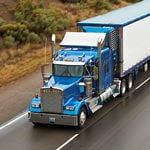 Looking for more on transportation safety?
Get the information and products you need to stay on top of industry changes and comply with regs.