FMCSA schedules two listening sessions on HOS plan
Posted August 19, 2019
The Federal Motor Carrier Safety Administration (FMCSA) has scheduled two public listening sessions to discuss potential changes to the hours-of-service rules for truck drivers.
The listening sessions will allow the public to present comments, views, and relevant research on the topic. FMCSA will transcribe all comments and place them in the rulemaking docket for the FMCSA's consideration when the commenting period ends.
The first listening session will be August 23, 2019, in Dallas, Texas, at the Great American Trucking Show. A second listening session will be scheduled for September 2019, in Washington D.C. Both sessions will begin at 10 a.m. local time and end at noon. The sessions will be webcasted to allow for remote viewing.
The proposed changes were announced last week by FMCSA and are expected to be published in the Federal Register this week. Once published, the clock on a 45-day public commentary window will open. Comments can be submitted to the Federal eRulemaking Portal by using docket number FMCSA-2018-0248.
The FMCSA's five proposed changes to the HOS rules are:
Changing the short-haul exception for certain commercial motor vehicle (CMV) drivers from 12 to 14 hours and extending the distance limit from 100 air miles to 150 air miles.
Extending the adverse driving conditions exception by two hours.
Increasing flexibility for the 30-minute break rule by requiring a break after eight hours of driving time (instead of on-duty time) and allowing the requirement to be satisfied by an on-duty break from driving, rather than requiring an off-duty break.
Modifying the sleeper-berth exception to allow drivers to split their required 10-hours off duty into two periods of at least seven consecutive hours in one period and not less than two consecutive hours either off-duty or in the sleeper berth.
Allowing one off-duty break of at least 30 minutes, but not more than three hours, that would pause a truck driver's 14-hour driving window, provided the driver takes 10 consecutive hours off-duty at the end of the work shift.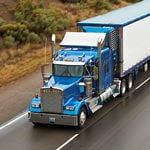 Looking for more on transportation safety?
Get the information and products you need to stay on top of industry changes and comply with regs.