FMCSA declares Missouri driver imminent hazard
Posted August 19, 2019
The Federal Motor Carrier Safety Administration (FMCSA) declared a Missouri-licensed truck driver possessing a commercial driver's license an imminent hazard to public safety following a fatal crash near Indianapolis, Indiana.
On July 14, 2019, the driver was operating a tractor-trailer in an active work zone along Interstate 465 eastbound near Keystone Ave. when his truck, traveling above the posted the speed limit, collided into the rear of a line of vehicles. The collision resulted in a fire that killed two children and their mother and sent seven other people to the hospital.
Indiana State Police arrested and charged the driver with three counts of reckless homicide and one count of reckless operation of a vehicle in a highway work zone.
Further investigation of the incident revealed that the man had a work background that included a history of careless driving and falsifications on his job application.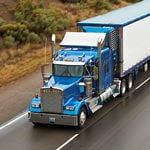 Looking for more on transportation safety?
Get the information and products you need to stay on top of industry changes and comply with regs.