EPA says generators not stuck with the Wipes Rule
Posted August 12, 2019
A new letter posted on EPA's hazardous waste database RCRA Online answers several questions on managing solvent-contaminated wipes under the 2013 "Wipes Rule." The Wipes Rule allows a facility to manage shop rags that have been used with certain solvents under less stringent regulations than for hazardous wastes. If the wipe will be disposed of, then it may be managed as a solid waste. If the wipe will be laundered and reused, it does not even have to be managed as a waste.
However, according to the letter, the Wipes Rule does not mean a generator can't take advantage of other RCRA recycling options, in particular the generator-controlled exclusion at 40 CFR 261.4(a)(23) or the recyclable material requirements at 40 CFR 261.6. Both of those regulations allow a generator to manage a waste stream under less stringent regulations if it is recycled according to the regulatory requirements.
The generator-controlled exclusion means that a waste stream is not a waste at all if it is generated and reclaimed under the control of the same person. The recyclable material requirements at 261.6 allow industrial ethyl alcohol to be excluded from management as a hazardous waste if it is properly recycled.
EPA points out wipes that have had the solvent removed by centrifuge do not need to be managed as hazardous when they no longer exhibit a hazardous waste characteristic.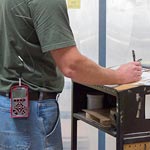 Looking for more on workplace safety?
Get the information and products you need to stay on top of industry changes and comply with regs.