EPA: No new regulatory requirements for hazardous substances spill prevention
Posted August 30, 2019
On August 22, EPA Administrator Andrew Wheeler signed a final action to establish no new regulatory requirements under the Clean Water Act (CWA) for hazardous substance discharge prevention and containment.
On July 21, 2015, EPA was sued for failing to comply with the alleged duty to issue regulations to prevent and contain CWA hazardous substance discharges. On February 16, 2016, the U. S. District Court for the Southern District of New York entered a Consent Decree that required EPA to sign a notice of proposed rulemaking pertaining to the issuance of hazardous substance regulations, and to take a final action after notice and comment.
EPA says that after seeking public comment and based on a review of its existing programs in conjunction with the frequency and impacts of reported CWA hazardous substances discharges, it believes the existing regulatory framework meets the requirements of CWA Section 311 and is serving to prevent, contain, and mitigate hazardous substances discharges.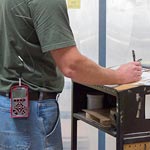 Looking for more on workplace safety?
Get the information and products you need to stay on top of industry changes and comply with regs.