BLS looks at fatal occupational injuries to independent workers
Posted August 23, 2019
In its first report on workplace injuries and illnesses of independent workers, the Bureau of Labor Statistics (BLS) identified 662 fatal occupational injuries in 2016 and 613 in 2017.
Of the total 10,337 fatal occupational injuries for all workers occurring over the 2016-2017 period, data show that 1,275 (12 percent) were incurred by independent workers. The occupation with the highest number of fatalities was heavy and tractor-trailer drivers with 173, followed by first-line supervisors of construction trades and extraction workers with 95, and construction laborers with 79.
The report also found:
Workers age 55-64 accounted for a greater number of worker fatalities;
Violence, including homicides and suicides, is less frequent among independent workers than all other workers;
Falls to a lower level accounted for 101 percent more independent worker deaths than all other workers' deaths; and
Entertainers and sports workers had the highest ratio of fatalities, followed by workers in forest, conservation, and logging; supervision of construction and extraction work; fishing and hunting; grounds maintenance; and air transportation.
The report notes that while independent workers are found across many different types of occupations, they share some commonalities:
Jobs are short-term, have a definite beginning and end, and payment is generally not made until the task has been completed.
There is no guarantee of future work beyond the determined task.
Work is not guaranteed to be available when the worker wants it.
The worker and client must agree to the terms of the work.
Nearly all independent workers are self-employed.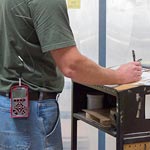 Looking for more on workplace safety?
Get the information and products you need to stay on top of industry changes and comply with regs.