Are you prepared for National Truck Driver Appreciation Week?
Posted August 23, 2019
Hopefully you've already made plans — or are in the process of planning — events to celebrate National Truck Driver Appreciation Week, September 8-14.
The annual event, hosted by state trucking associations and the American Trucking Associations (ATA), is designed to bring attention to the more than 3.5 million professional truck drivers across the country who deliver more than 70 percent of the country's freight.
If you're a motor carrier still looking for the proper way to show appreciation for the truck drivers in your company, here are a few suggestions courtesy of ATA:
Host a barbeque for your drivers and their families,
Hang banners to show the public and your employees to show your appreciation,
Host a safety service award ceremony to recognize drivers for their safety efforts and records,
Send drivers personalized notes to thank them for their contributions, and
Host ride-a-longs for office workers, executives, family members, and community members.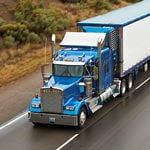 Looking for more on transportation safety?
Get the information and products you need to stay on top of industry changes and comply with regs.