ACGIH® releases two-tier Under Study list
Posted August 5, 2019
ACGIH® announced it has released its 2019 two-tier Under Study list, which includes chemical substances and physical agents to be considered for Threshold Limit Values (TLVs) for Chemical Substances and Physical Agents and Biological Exposure Indices (BEIs). TLVs and BEIs are health-based values derived from ACGIH's conclusions of the exposure levels that typical workers can experience without adverse health effects.
ACGIH has presented its Under Study list in two tiers since 2006.
Tier 1 entries indicate which chemical substances and physical agents may move forward as an NIC (Notice of Intended Change) or NIE (Notice of intent to Establish) in the upcoming year, based on their status in the development process. Recently added chemicals include cyclohexane; dinotefuran; 2,3-Epoxypropyl methacrylate; methylcyclohexanone, mixed isomers; p-Methylcyclohexanone; neonicotinoids; sodium silicate; styrene oxide; thiamethoxam; and welding fume.
Tier 2 consists of those chemical substances and physical agents that will not move forward, but will either remain on or be removed from the Under Study list for the next year. Recently added chemicals include benzoic acid; crontonaldehyde; cyclopentane; diacetyl; 2-Ethyl hexane-1-ol; hydrogen peroxide; isoprene; 4,4'-Isopropylidene diphenol; and 2-Methyl-2-butene.
The updated list will remain in two tiers for the remainder of the year.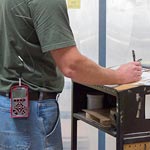 Looking for more on workplace safety?
Get the information and products you need to stay on top of industry changes and comply with regs.