3M™ recalls self-retracting lifelines
Posted August 5, 2019
3M Fall Protection has announced a product recall and immediate stop use of two of its self-retracting lifelines, both of which are used as part of a personal fall protection system. The company has determined that in a fall and under certain conditions, the energy absorber of these devices may not properly deploy, which could lead to serious worker injury or death. Users and owners should immediately take the affected devices out of service.
All models of the 3M™ DBI-SALA® Twin-Leg Nano-Lok edge and the Twin-Leg Nano-Lok™ Wrap Back Self-Retracting Lifeline (SRL) devices since introduced in 2013 are affected by the stop use and product recall. The single-leg versions are not affected.
The company currently is offering two options. Customers can receive a free repaired or new replacement device when it becomes available, or receive cash for their returned device (only until a repair or replacement solution is available).
For more information, see NanoLokEdgeRecall.com or call 3M's customer service department at 1-833-638-2697.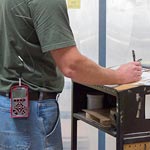 Looking for more on workplace safety?
Get the information and products you need to stay on top of industry changes and comply with regs.