Washington State plans unified fall protection rule for all industries statewide
Posted August 13, 2018
Washington State's Department of Labor and Industries (L&I) Division of Occupational Safety and Health (DOSH) is planning a unified fall protection rule for all industries statewide, based on federal OSHA's concerns over the state's residential construction rule, as well as incorporating OSHA's Walking-Working Surfaces revised rule. Through public forums held in 2016 and 2017, the state found widespread support from stakeholders who said a single, unified fall protection standard that applied to all industries statewide would be easier to implement and help protect workers from fall hazards.
In June 2013 and October 2015 DOSH received notification from OSHA relating to the state's fall protection standards. The Agency was concerned that the state's fall protection residential construction standards differ significantly from OSHA's policies and standards. OSHA focused on ambiguous language with regards to skylights and wall openings; the use and strength of warning lines; and alternatives to conventional fall protection, such as catch platforms and safety watch systems and trigger height. The state's walking-working surfaces standards also must be updated to ensure they meet or exceed OSHA's federal safety requirements.
Stakeholder meetings will be held throughout the state beginning in late August.
---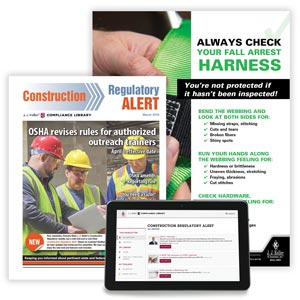 J. J. Keller® Construction Regulatory Update keeps you up-to-date with 1926 regulatory changes and new safety information.
---
J. J. Keller's FREE Workplace SafetyClicks™ email newsletter brings quick-read workplace safety and compliance news right to your email box.