Receiving unemployment while on unpaid FMLA leave
Posted August 3, 2018
Eligible employees of covered employers are entitled to FMLA leave for qualifying reasons. Given this, one would expect that an individual cannot be an employee and be unemployed at the same time. According to at least one state supreme court, however, it can happen.
Janette, an employee, took FMLA leave for her own serious health condition. She had only three days of accrued paid leave, so after those three days, she was on unpaid leave. About six weeks later, she told her employer that she could return to work with restrictions. Eventually, the employer met the restrictions, and Janette returned to work.
While on the unpaid FMLA leave, however, Janette filed an initial claim for unemployment benefits with the state workers' compensation agency. Her employer contested the claim, arguing that Janette had remained an employee and, therefore, did not qualify for unemployment benefits. Janette never voluntarily left work, was never fired, was never laid off, and never left her employment.
The workers' comp agency, however, determined that she was unemployed while on an unpaid leave of absence for a medically verifiable illness. Therefore, if she met all other requirements, she would be entitled to unemployment benefits.
The appeals court concluded that it would be absurd for an individual to be entitled to unemployment benefits during FMLA leave. Not necessarily, said the state supreme court. The unemployment law defines "unemployed" as when the individual does not perform services for wages in excess of a certain amount, among other things. There are some exceptions to the disqualifications, and one of those is when the individual left work because of a medically verified illness, which is basically what Janette did.
Janette was not performing services for wages, therefore, she met the definition of unemployed, and was not disqualified from receiving benefits solely because she was on FMLA leave. The situation did not require a formal severance of the employer-employee relationship.
The supreme court also indicated that a mere oddity does not equal absurdity. The final ruling held that an individual on unpaid FMLA leave could fit within the unemployment law's definition of the term "unemployed." While this might not happen often, it could. The employee would need to then proceed to the eligibility phase of the unemployment benefits application process.
While this state's definition opened the door for an employee to receive unemployment benefits during unpaid FMLA leave, your state's might not. We can only hope that such an event would remain, at the very least, an oddity.
Texas Workforce Commission v. Wichita County, Texas Supreme Court, No. 17-0130, May 25, 2018
---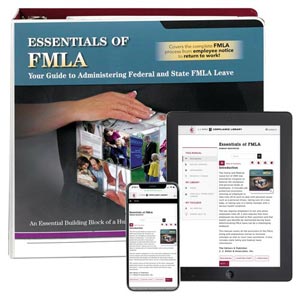 J. J. Keller's Essentials of FMLA manual helps HR pros understand and comply with the FMLA rules, control costs related to leave taken, and minimize the law's potential disruption to their organizations' operations.
---
J. J. Keller's FREE HRClicks™ email newsletter brings quick-read human resources-related news right to your email inbox.