OSHA extends select compliance dates for general industry beryllium rule
Posted August 9, 2018
OSHA is extending the compliance date for certain ancillary requirements of the general industry beryllium standard to December 12, 2018. The new compliance date affects only certain ancillary provisions, i.e., methods of compliance, beryllium work areas, regulated areas, personal protective clothing and equipment, hygiene areas and practices, housekeeping, communication of hazards, and recordkeeping.
OSHA says it has determined that this final rule will maintain essential safety and health protections for workers while the Agency prepares a Notice of Proposed Rulemaking (NPRM) to clarify specific provisions of the beryllium standard in accordance with a settlement agreement entered into with stakeholders. According to OSHA, the revisions that it plans to propose are designed to enhance worker protections by ensuring that the rule is well-understood and compliance is simple and straightforward.
This rule does not affect the new permissible exposure limits (PELs) for general industry, construction, and shipyards or the general industry provisions for exposure assessment, respiratory protection, medical surveillance, and medical removal, which OSHA began enforcing on May 11, 2018. It also does not affect the March 11, 2019, compliance date for the provisions on change rooms and showers or the March 10, 2020, compliance date for implementation of the engineering controls.
---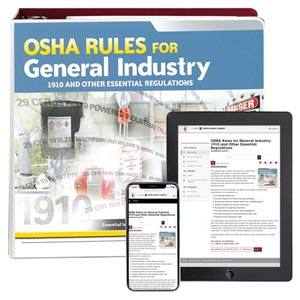 OSHA Rules for General Industry: 1910 and Other Essential Regulations puts OSHA's workplace safety regulations in a reader-friendly format.
---
J. J. Keller's FREE Workplace SafetyClicks™ email newsletter brings quick-read workplace safety and compliance news right to your email box.