Not yours to decide: Intermittent or continuous leave
Posted August 16, 2018
Henry suffered from various medical conditions that would flare up every now and then. For a couple years he'd been taking intermittent leave under the Family and Medical Leave Act (FMLA) for the conditions. He provided a certification each new leave year, which generally reflected the same, albeit somewhat confusing information. It indicated that he would be incapacitated for a single continuous period of time, and would need time off for flare-ups (continuous AND intermittent?).
In the third year, however, the company's HR representative decided to deny the intermittent leave, choosing to interpret the certification as indicating that Henry's restrictions applied at all times, not only during flare-ups. Therefore, Henry was required to take continuous leave. This resulted in Henry losing income and he felt he was forced to resign.
Being none too happy about the situation, Henry sued, arguing that his condition prevented him from working only during occasional flare-ups; therefore, he could still perform his job — with intermittent leave. In referring to its latest interpretation of the certification, the employer argued that allowing Henry to continue working would have exposed it to potential liability if it did not honor the medical restrictions of Henry's doctor, and a resulting injury or worse were to occur.
In court, the HR representative acknowledged that she understood that the latest certification requested intermittent and continuous leave. But the company had interpreted the same information on the certifications from the two previous years as requiring only intermittent leave, and Henry had successfully worked in the same position with intermittent leave.
The court did not buy the employer's argument when it ruled that a jury could find that Henry's doctor did not require him to be on continuous leave, yet the employer denied him intermittent leave, interfering with his FMLA rights. The employer's sudden about-face with Henry's ability to work also suggested that its excuse of medical necessity was pretext for retaliation.
Takeaway
Looking at such a situation through the eyes of a potential jurors might provide some guidance regarding steps one should take when trying to decipher confusing certification information, particularly when taking a negative employment action belies past action, and the information can be interpreted in different ways. This employer might have fared better if it had requested a clarification after receiving a complete and sufficient certification.
Intermittent FMLA leave has long been a challenge for employers, and the certification forms can result in confusing and sometimes seemingly contradicting information. The FMLA need not be overly perilous, however, if you stop and consider the potential repercussions of any negative action. Unfortunately, it can be a fine line between trying to avoid a lawsuit and trying to curb leave abuse. Brown v. Gestamp of Alabama LLC, District Court of Alabama, 2:16-CV-1862 and 2:17-CV-1411 July 18, 2018.
---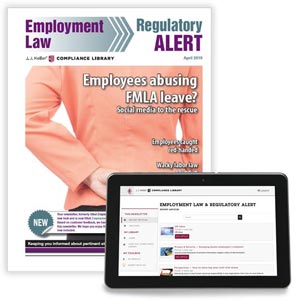 J. J. Keller's Employment Law Today newsletter explains why you need to care, what you need to do and how your business could be affected by HR industry news.
---
J. J. Keller's FREE HRClicks™ email newsletter brings quick-read human resources-related news right to your email inbox.