EEOC takes multi-state action on workplace harassment
Posted August 17, 2018
For the second time in as many months, the Equal Employment Opportunity Commission (EEOC) filed multiple coordinated suits across several states in a one-week period as a show of the agency's force. All seven lawsuits allege harassment based on race, national origin, and/or sex, and many include charges of retaliation.
The suits include a laundry list of bad behavior, such as:
A California country club manager solicited nude photos of female employees; committed physical assaults including groping, kissing, and even choking; "offered" one to male customers as an exotic dancer. When they complained, the manager would threaten to fire them or reduce their hours. The club did nothing to stop the behavior when it was reported, and several women resigned.
A New Mexico restaurant's male managers and employees subjected female employees to unwelcome comments, touching, and sexual solicitations via text messages. The pervasive behavior created a hostile work environment, and the women were retaliated against (with unfavorable changes to work assignments) for opposing the behavior.
A Colorado senior care facility created a hostile work environment for female employees when it failed to put an end to the groping and sexual remarks they endured at the hands of a client. Instead, the facility managers cut the women's hours, then terminated or forced them to resign.
A male employee at a Georgia grocery store made repeated advances and lewd comments to two female employees over a period of time, creating a hostile work environment. After reporting the behavior multiple times, the women experienced unfavorable changes to their working hours and eventual termination.
A national airline is charged with creating a hostile work environment after a female flight attendant experienced years of harassment at the hands of a male colleague. The male flight captain posted sexually explicit pictures of the flight attendant on several websites, using her real name and location. The airline's managers failed to take corrective action, even after the flight attendant provided them plenty of evidence.
A Texas-based oil company failed to put an end to ongoing racial harassment, even when the behavior was witnessed by supervisors. Several white employees used multiple derogatory terms to refer to an African-American employee on multiple occasions.
A Louisiana dry cleaner failed to protect an employee in multiple ways when she experienced harassment and discrimination based on her national origin, as well as retaliation when she complained about the treatment. After enduring months of racist name-calling at the hands of a colleague, the employee confronted the harasser, who subsequently physically assaulted her. Several days later, the cleaner fired the victim and took to action to discipline the attacker.
Citing studies that nearly 80 percent of employees who experience harassment at work will never file a complaint, the EEOC Acting Chair Victoria Lipnic reminded employers that they should encourage and reward employees who speak out against mistreatment instead of retaliating against them illegally.
Key to remember: Nearly one-third of the EEOCs annual charges include allegations of harassment and/or retaliation. Employers must work diligently to protect employees who report such behavior while working to create a safer workplace for all.
---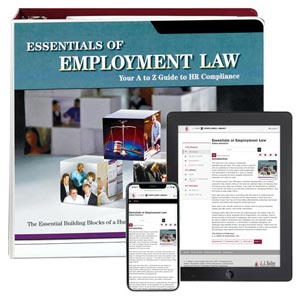 J. J. Keller's Essentials of Employment Law Manual covers more than 100 vital HR topics, including FMLA, ADA, HIPAA, FLSA, COBRA and more.
---
J. J. Keller's FREE HRClicks™ email newsletter brings quick-read human resources-related news right to your email inbox.