Celebrate Driver Appreciation Week
Posted August 16, 2018
Food, freebies, fuel, and fun. These are just some of the ways carriers across the country will celebrate National Truck Driver Appreciation Week, set for September 9-15.
Let's eat
From cookouts to catered lunches, companies will host events during the week where managers and other company employees can associate with drivers. The events are typically cookouts or breakfast, lunch or dinner at a popular restaurant, or catered in food.
Carriers might also take Appreciation Week as an opportunity to plan an awards banquet for drivers, and tie in the spirit of the week with an Oscars-like night dedicated to them. The banquets can be formal or informal, so long as they focus on the impact and appreciation for the drivers.
Let's win
Everybody likes to win prizes, right? Drivers are no exception. Holding a drawing or a series of drawings can keep everyone engaged and looking forward to collecting some big bounty throughout the week.
Prizes can range from practical, like company jackets or hats, and gift certificates to truckstops or local stores, to a grander scale, like tickets to an NFL game or NASCAR event, or a weekend get-away package.
Of course, this being National Truck Driver Appreciation Week, a gift package for all drivers is always a nice touch.
Fill 'er up
Sometimes the best way to say thanks is with a small gesture. Some companies will celebrate the week by stationing personnel at fuel pumps to clean and fuel the trucks when they return to the yard. This gives the drivers a break from their duties before wrapping up the shift, and an opportunity for other members of the company – notably management – to thank the drivers for their hard work.
Keep it going
National Truck Driver Appreciation Week is scheduled September 9-15, but remember that the appreciation deadline should not end there. Just a simple "thank you" for a job well done at any time during the year goes a long way.
Want to take year-round appreciation to the next level? Do an awards program that honors drivers for hitting certain standards throughout the year, such as perfect inspection rates or log compliance, and honor those drivers at a banquet.
---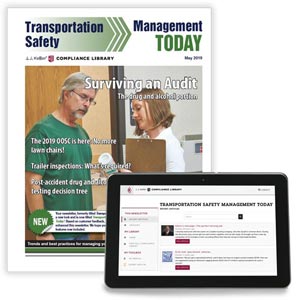 J. J. Keller's Transport Safety Pro Advisor helps you stay on top of the latest regulatory and non-regulatory issues affecting the motor carrier industry.
---
J. J. Keller's FREE Transportation SafetyClicks™ email newsletter brings quick-read safety and compliance news right to your email box.