Agencies share information to catch employers in visa discrimination
Posted August 3, 2018
The Department of Justice's Civil Rights Division and the Department of Labor (DOL) expanded their collaboration to try to protect U.S. workers from discrimination by employers that prefer to hire temporary visa workers over qualified U.S. workers. This new partnership establishes protocols for the agencies to share information, refer matters between them, and train each other's employees.
In 2017, the Civil Rights Division launched the Protecting U.S. Workers Initiative, which is aimed at targeting, investigating, and taking enforcement measures against companies that discriminate against U.S. workers in favor of foreign visa workers. Since the Initiative's inception, employers have paid or distributed over $285,000 in back pay to affected U.S. workers.
The Civil Rights Division has also increased its collaboration with other federal agencies, including the Departments of State and Homeland Security, to combat such discrimination. This latest cooperation expands on the Division's existing partnership with DOL. In 2017, the Division entered into a similar ongoing partnership with DOL's Wage and Hour Division to combat discrimination and violations of other federal worker protection laws by facilitating the agencies' information sharing.
The Civil Rights Division's Immigrant and Employee Rights Section (IER) is responsible for enforcing the anti-discrimination provision of the Immigration and Nationality Act. Among other things, the statute prohibits citizenship status and national origin discrimination in hiring, firing, or recruitment or referral for a fee; unfair documentary practices; retaliation; and intimidation. An employer that prefers to hire temporary visa workers over available, qualified U.S. workers may be discriminating in violation of this law.
---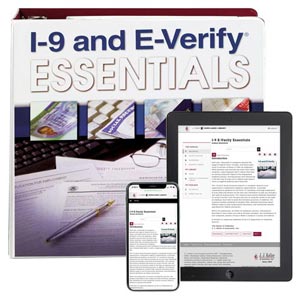 J. J. Keller's I-9 and E-Verify Essentials Manual contains up-to-date info on new Form I-9 requirements and the entire employment authorization process.
---
J. J. Keller's FREE HRClicks™ email newsletter brings quick-read human resources-related news right to your email inbox.