Virginia urges greater employer, worker vigilance after rise in fatalities
Posted August 8, 2017
Seven Virginia workers died on the job during the month of July, according to the Virginia Department of Labor and Industry (DOLI). Already this year, the Virginia Occupational Safety and Health (VOSH) has investigated a total of 19 workplace fatalities
DOLI Commissioner C. Ray Davenport said "For the second year in a row there has been a surge in workplace fatalities in July … I strongly encourage Virginia's employers and workers to become familiar with and comply with Virginia's occupational safety and health laws and regulations."
The VOSH program urged state employers to carefully review their injury and illness prevention programs along with their workplace safety and health procedures with their employees to prevent further tragedies.
In 2016, the state experienced a 35 percent increase in fatal workplace accidents over 2014 and 2015, with 31 employee deaths for both years. DOLI reports that nearly three quarters of all the state workplace fatalities occurred in general industry in 2016. In 2014, construction companies experienced the majority of the workplace fatalities. Agriculture, including tree trimming operations, made up five percent or less of all the workplace fatalities in Virginia.
DOLI recommends employers and workers take the following steps to avoid workplace injuries and illnesses:
Conduct a safety and health "stand down" meeting and encourage discussion on recognizing and correcting workplace hazards;
Pledge to work together with front line employees as a team to make the workplace a safer, healthier, and happier place to work;
Establish and implement a safety and health program for the work site with full employee involvement;
Encourage accident prevention and the reporting of hazards and injuries in the workplace. (Many times, minor injuries go unreported and more severe injuries result later on as a result of an uncorrected hazard in the workplace.)
Increase attention toward the safety of vulnerable workers such as temporary workers or those who are not fluent in English;
Learn about the on-site consultation services offered by the VOSH program.
DOLI reminds employers of the requirements to report workplace fatalities within eight hours and employee in-patient hospitalizations, amputations, or losses of an eye within 24 hours. Reports can be made through OSHA's website, OSHA's toll-free hotline at 800-321-OSHA, or at a local DOLI regional office.
Virginia employers must follow all federal OSHA identical standards as well as state-specific standards, which are available on DOLI's Virginia Unique Standards page.
---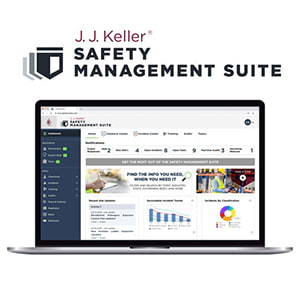 The J. J. Keller® Safety Management Suite, formerly KellerOnline®, provides safety professionals with the tools and applications to help drive performance, reduce risk, and ensure compliance.
---
J. J. Keller's FREE Workplace SafetyClicks™ email newsletter brings quick-read workplace safety and compliance news right to your email box.