Senate Appropriations Committee approves its version of transportation funding bill
Posted August 2, 2017
The U. S. Senate Appropriations Committee approved its version of the transportation funding bill (Transportation, Housing and Urban Development, and Related Agencies Appropriations Act, 2018) on July 27, 2017, with two notable provisions relating to size and weight requirements for commercial motor vehicles.
Senator John Hoeven (R-ND) secured a provision for his home state of North Dakota to increase truck weight limits. If the provision becomes law, it allows a limit of up to 129,000 pounds on the two federal interstates and several state highways. The amendment dovetails off state legislature and would harmonize the state standards with Montana, South Dakota, and the province of Manitoba.
The second provision in the bill was secured by Senator Jeanne Shaheen (D-NH). It protects New Hampshire's existing federal truck weight exemption and ensures the state's ability to decide the size and weight limit of trucks operating on local interstates. Due to a technicality, the Federal Highway Administration ruled that certain trucks operating in the state were violating federal law, and as a result, the state was penalized by the agency. Verbiage in the bill corrects the conflict. Without the amendment, New Hampshire would have lost federal highway funding and forced some trucks off the road.
---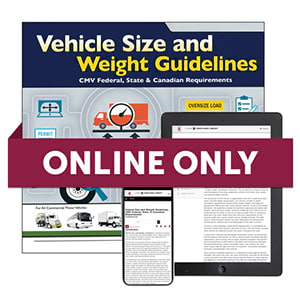 J. J. Keller's Vehicle Sizes & Weights Manual has federal and state size and weight limitations plus requirements for overdimensional movements in easy-to-use format.
---
J. J. Keller's FREE Transportation SafetyClicks™ email newsletter brings quick-read safety and compliance news right to your email box.