Is your company losing job candidates due to poor background check processes?
Posted August 11, 2017
Background checks are designed to validate candidate resumes and protect employers from negligent hiring risks, but employers need to make sure they are not experiencing candidate fall off because of a poor background check experience.
According to a recent CareerBuilder survey, more than a third of employers (38 percent) have lost a candidate because they had a negative experience with their background check; however, less than half of human resource (HR) managers who conduct background checks (44 percent) have tested their background check experience themselves. When employers do test their process, they identify a less than ideal candidate experience, with around 1 in 6 (14 percent) rating their background check candidate experience as fair or poor.
A background check process reflects on the business
A negative experience with a company's HR technology (such as a job application or background check process) can affect a candidate's opinion of the company overall. Fifty-six percent of candidates think less of a company if they have a poor experience with their HR technology, and 8 percent of those who have accepted a job offer and then withdrew have done so because a background check took too long or they had a negative experience with the background check/drug check.
A poorly conducted background check is one of the most common reasons employers lose candidates that have accepted job offers — 21 percent of employers who have lost candidates that have accepted a job offer say it was because background screening took too long, and 20 percent said it was because a candidate had a poor experience with background screening.
The survey recommends these three strategies to help optimize your background check process for candidates:
Partner with the best. Make sure your provider keeps up with compliance standards, is National Association of Professional Background Screeners (NAPBS) Accredited, and provides timely communication and support to candidates.
Check the clock. The longer the background check, the higher the risk of losing the candidate to another employer. Typically, background checks should return in less than five business days, but on average take 24-72 business hours to complete.
Test the candidate experience. Not only is it important for employers to experience the process firsthand to make sure it is easy and straightforward, it's important to seek direct feedback from your candidates.
Survey methodology
This survey was conducted online within the U.S. by Harris Poll on behalf of CareerBuilder among 2,369 hiring and human resource managers ages 18 and over (employed full-time, not self-employed, non-government including 221 HR managers) and 3,462 employees ages 18 and over (employed full-time, not self-employed, non-government) between May 24 and June 16, 2017 (percentages for some questions are based on a subset, based on their responses to certain questions). With pure probability samples of 2,369 and 3,462, one could say with a 95 percent probability that the overall results have sampling errors of +/- 2.01 and +/- 1.67 percentage points, respectively. Sampling error for data from sub-samples is higher and varies.
---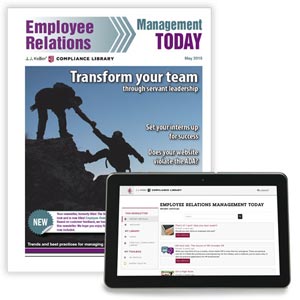 The SUPER adVISOR™ newsletter contains four pages dedicated to the HR manager and a corresponding four-page pullout dedicated to the needs of supervisors.
---
J. J. Keller's FREE HRClicks™ email newsletter brings quick-read human resources-related news right to your email inbox.