Employers can discipline employees during FMLA leave
Posted August 10, 2017
Josie had been working with the company for over three years without issue. She had started as a temporary, part-time employee, and then moved to a full-time regular position in the information technology department. At one point, she claimed to have discovered that Hugo, a coworker, was involved in multiple breaches of a company computer. Hugo, however, was subsequently promoted to be Josie's immediate supervisor. Josie claimed that Hugo, in his supervisory role, harassed her in retaliation for her exposure of his breaches.
Josie's reputation was not spotless. She was alleged to have abused her privileges as a network, server, and Microsoft Exchange administrator, and had been said to have accessed, copied, and stored emails and confidential information without proper authority or a legitimate business need.
Add to this scenario, the fact that Josie was battling cancer, and had requested time off under the Family and Medical Leave Act (FMLA). Her request was granted. Her alleged abuses occurred before she requested and took leave.
While she was on the leave, disciplinary conferences were scheduled. She was contacted regarding the conferences, but did not attend them. Josie believed that such scheduling of the conferences violated the FMLA.
During the conferences, and without Josie in attendance, the employer terminated Josie because of her unacceptable personal conduct.
While this case was restricted to the state of North Carolina, it illustrates that employers may impose discipline on an employee even while that employee is on FMLA leave. Employers may not discipline employees simply because they took FMLA leave, but if there is a non-FMLA related legitimate business reason for the discipline, including termination, the employer should prevail. In this case, Josie abused her work privileges and was terminated for that reason.
To succeed in such cases, employees have to show the following:
They are entitled to an FMLA benefit,
The employer interfered with the provision of that benefits, and
That interference caused harm.
These provisions, however, do not negate an employer's discretion to discipline or terminate an employee for poor job performance regardless of whether the reason for terminating the employment was discovered while the employee is taking FMLA leave.
Josie didn't even argue that the interference was in response to her use of FMLA leave. She thought that the mere scheduling of the proceedings at all while she was on FMLA leave was a violation. She was wrong.
Employers may discipline an employee while on FMLA leave, as long as that discipline is not because the employee took FMLA leave. If, before or during leave, it is discovered that an employee's job performance was worthy of discipline, that discipline may be applied. The fact that an employee's leave opened up the opportunity to discover a job performance issue does not protect the employee.
---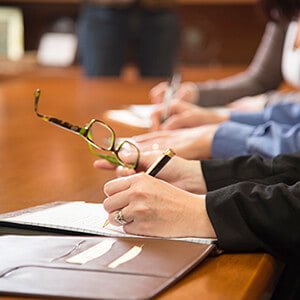 J. J. Keller's Family and Medical Leave Act (FMLA) Consulting Services can help your company ensure compliance with FMLA requirements and minimize the law's burden to your organization.
---
J. J. Keller's FREE HRClicks™ email newsletter brings quick-read human resources-related news right to your email inbox.