EPA eliminates new chemical backlog
Posted August 10, 2017
EPA reports that a backlog of new chemical cases under review has been eliminated. The 2016 Lautenberg Chemical Safety Act, which amended the Toxic Substances Control Act (TSCA), requires EPA to make a safety determination before a new chemical can be brought to market.
EPA says more than 600 chemicals have cleared this regulatory hurdle, and the current caseload is back at the baseline. The Agency promised a "more predictable and transparent process for making safety determinations through a commitment to following operating principles; continuously improving; and increasing the transparency in the decision-making for new chemical safety determinations."
The operating principals for the review of new chemicals include:
Where the intended uses in premanufacture notices (PMNs) or other Section 5 notices (such as low volume exemption (LVE) requests) raise risk concerns, EPA will work with submitters, and, if the submitters submit timely amended PMNs addressing those concerns, EPA will generally make determinations based on those amended submissions.
Where EPA has concerns with reasonably foreseen uses, but not with the intended uses as described in a PMN or LVE application, as a general matter, those concerns can be addressed through significant new use rules.
As described in the risk evaluation rule EPA Administrator Scott Pruitt signed on June 22, 2017, identification of reasonably foreseen conditions of use will be fact-specific. It is reasonable to foresee a condition of use, for example, where facts suggest the activity is not only possible, but, over time under proper conditions, probable.
The purpose of testing in a Section 5 order is to reduce uncertainty in regard to risk. Specifically, it is to address risk concerns that gave rise to a finding of "may present unreasonable risk" or another Section 5 finding other than "not likely to present unreasonable risk." In addition, consistent with the statute, any request for testing by EPA will be structured to reduce and replace animal testing as appropriate.
Other improvements the Agency committed to include redeploying staff to increase the number of full-time equivalent employees working on new chemicals and initiating a LEAN exercise to streamline work processes around new chemicals. In addition, EPA will develop a voluntary pre-submissions consultation process so that submitters have a clear understanding of what information will be most useful for EPA's review of their new chemical submission.
To meet its goal of being more transparent, EPA said it will do the following:
Release, for public comment and stakeholder engagement, draft document that will provide the public with more certainty and clarity regarding how EPA makes new chemical determinations and what external information will help facilitate these determinations.
Facilitate a public dialog on EPA's goal of continued improvement in the new chemicals review program.
Continue posting weekly web updates of program statistics, so that manufacturers and the public can determinate the disposition of cases as quickly as possible.
---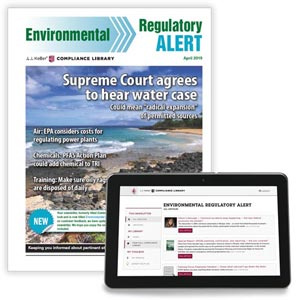 J. J. Keller's Environmental Alert: The Compliance Guide for Safety Professionals helps you stay on top of the latest environmental enforcement issues.
---
J. J. Keller's FREE Workplace SafetyClicks™ email newsletter brings quick-read workplace safety and compliance news right to your email box.