EEO-1 changes suspended
Posted August 31, 2017
Employers getting ready to add pay and hours worked data to their EEO-1 Reports can stop their efforts for now. The new obligations have been postponed indefinitely.
What the changes looked like
In September 2016, the Equal Employment Opportunity Commission (EEOC) finalized a new EEO-1 form, requiring employers to file a new EEO-1 Report for the first time by March 31, 2018. Employers were given a reprieve for 2017, with no report required at all this year.
The new report would have required employers to add employee pay and hours worked data to the EEO-1 Report, which already reports employees' race/ethnicity and sex. However, this summer, the U.S. Chamber of Commerce asked that the Office of Management and Budget (OMB) rescind its approval of the new collection.
The Chamber indicated that supplying the additional data would cost employers tremendously in terms of time, and would neither promote equal pay nor help the EEOC identify discrimination.
The Chamber further asserted that the EEOC grossly underestimated the burden the additional reporting requirements would have on employers. While the EEOC's cost estimate for employers to comply with the new requirements was about $53 million, the Chamber's assessment was that the figure was closer to $400 million.
The OMB's answer
On August 29, 2017, in a letter to the EEOC, the OMB expressed its concern that
"some aspects of the revised collection of information lack practical utility, are unnecessarily burdensome, and do not adequately address privacy and confidentiality issues."
Because of these concerns, the OMB communicated its decision to postpone the requests for data on wages and hours worked so it can further review the additional burden on employers.
Not a total reprieve
While employers are not required to include the additional data points in their next EEO-1 Reports, they are still required to file the report as it has been previously required (including race/ethnicity and sex data) by March 31, 2018.
The EEO-1 Report is required for employers with:
100 or more employees; or
50 or more employees and a federal contract of $50,000 or more.
The report had traditionally been due annually by September 30 of each year.
This article was written by Katie Loehrke of J. J. Keller & Associates, Inc.
---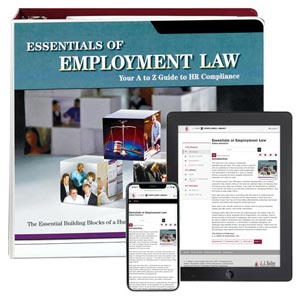 J. J. Keller's Essentials of Employment Law Manual covers more than 100 vital HR topics, including FMLA, ADA, HIPAA, FLSA, COBRA and more.
---
J. J. Keller's FREE HRClicks™ email newsletter brings quick-read human resources-related news right to your email inbox.