Checklists can help FMLA administrators stay on track
Posted August 24, 2017
Administering employee time off under the Family and Medical Leave Act (FMLA) has many process challenges, but a checklist can help remind you what tasks need to be done and in what order. The FMLA process is not always linear, and capturing every step for every particular situation would likely encompass an entire volume. Therefore, this checklist covers the basic steps. It does not (and cannot) cover all "if…then…" scenarios. You should customize it to suit your particular needs.
Communication before leave
Ensure that the FMLA poster is up where both employees and applicants can see it.
When an employee puts the company on notice of the need for leave, determine whether the employee meets the eligibility criteria of having worked at least 12 months with your company, worked at least 1,250 hours in the 12 months before leave is to begin, and works at a location with at least 50 company employees within 75 miles.
If applicable, determine if the employee provided advance notice of the need for leave.
Within five days of an employee putting you (or anyone acting on behalf of the employer) on notice of the need for leave, complete the applicable portions of the eligibility/rights and responsibilities notice and give it to the employee.
Your policies might include having the employee complete a leave request form.
Include an appropriate certification with the eligibility/rights & responsibilities notice, if desired. Your company policy might also have you include such documents as a leave request form, your company FMLA and/or paid leave policy, a copy of the FMLA poster, and a memo or checklist outlining employee expectations.
Allow the employee at least 15 days to provide a complete and sufficient certification.

If you receive a certification that is incomplete or insufficient, return it to the employee with a written list of what is needed to make it complete and sufficient.
Provide the employee at least seven days to cure any deficiencies.

When you receive a complete and sufficient certification, review it carefully, comparing the information to that of the definition of a serious health condition.
Within five days of obtaining enough information that the leave qualifies for FMLA protections, provide the employee with a designation notice.
Determine whether the employee will use accrued paid time off during FMLA leave.
If applicable, make arrangements with the employee to have him or her make premium payments for group health care coverage.
During leave
Track FMLA leave.
If applicable, ensure the employee provides periodic status reports (must have been indicated in the eligibility/rights & responsibilities notice).
If your policy dictates, discontinue paid leave accruals.
If leave is for a long period of time, determine whether access to the facilities, including networks, will be denied.
Request recertification when called for and allowed.
Keep all medical-related information (including certifications) confidential and separate from the general personnel files.
Returning from leave
If the leave was for the employee's own condition, and if you requested it, ensure the employee provides a fitness-for-duty certification before returning to work.
Reinstate the employee to his or her position, or an equivalent one.
Reinstate benefits accrued before leave began.
Reinstate access to the facilities.
If, after exhausting FMLA leave, the employee cannot return to work because of his or her own condition after, consider your obligations under the Americans with Disabilities Act.
---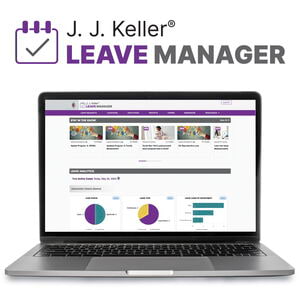 J. J. Keller® FMLA Manager™ Service makes leave tracking easier while complying with the latest federal & state regulations.
---
J. J. Keller's FREE HRClicks™ email newsletter brings quick-read human resources-related news right to your email inbox.