Can FMLA leave apply to temporary foster custody?
Posted August 5, 2016
Eli's face showed vestiges of concern as he sat on the other side of Sasha's desk in the HR department. Eli was knee-deep in the process of receiving temporary foster custody of a child and wanted to take some time off to spend with the child. Sasha tried to ease Eli's mind. "I'm not sure if the FMLA applies to situations involving temporary custody, but I will certainly look into it and get back to you."
"Guess that's all I can ask," responded Eli.
Sasha got to work.
Most employers familiar with the Family and Medical Leave Act (FMLA) know that eligible employees are entitled to take leave to bond with an adopted child or one placed for foster care. The regulations, however, do not provide detail in regard to whether the foster care custody needs to be full or permanent custody. A Department of Labor opinion letter from 1996, however, provides some insight:
"Neither the statute nor implementing regulations imposes a minimum period of time or permanency in connection with a foster care placement for FMLA leave purposes. So long as the placement is the result of a foster care agreement between the foster parents and the state, leave to care for the newly placed foster child would be considered FMLA leave."
Eligible employees may take FMLA leave to bond with a newly placed child on an intermittent or reduced schedule basis only if you (the employer) agree. If you agree to permit intermittent or reduced schedule leave for placement, you may require the employee to transfer temporarily, during the period of leave, to an available alternative position for which the employee is qualified and which better accommodates recurring periods of leave than the employee's regular position.
The letter goes on to indicate that if an employee is undertaking placement of multiple children for foster care, the placement of each child would be considered a separate FMLA qualifying event. Subsequent placement would not be subject to the restrictions on intermittent leave for foster care.
Employees may take FMLA leave before the actual placement if an absence from work is required for the placement to proceed. For example, an employee may be required to attend counseling sessions, appear in court, consult with his or her attorney or the doctor(s) representing the birth parent, or submit to a physical examination.
Foster care placements involve state action, voluntary or involuntary removal of a child from the parents or guardian, and an agreement between the state and foster family that the foster family will take care of the child. Leave for the bonding would need to be concluded within 12 months of the placement.
If an employee has a child placed through foster care and then a year or so later decides to adopt the child, only the initial date of placement triggers the right to leave for bonding, not the subsequent adoption.
Therefore, Eli would not need to have full custody to be entitled to FMLA to bond with the child. He would be so entitled even if he had temporary custody. Sasha can now ease Eli's concerns, but she should consider whether Eli will take the leave continuously or on an intermittent or reduced schedule basis. This could be indicated in a policy or done as a past practice.
This article was written by Darlene Clabault of J. J. Keller & Associates, Inc.
---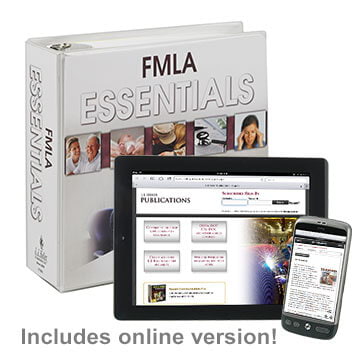 J. J. Keller's FMLA Essentials Manual uses clear, conversational language to help you understand the FMLA (Family and Medical Leave Act) requirements.
---
J. J. Keller's FREE HRClicks™ email newsletter brings quick-read human resources-related news right to your email inbox.