FDA revokes Emergency Use Authorizations for KN95s
Posted July 2, 2021
The U.S. Food and Drug Administration (FDA) revoked Emergency Use Authorizations (EAU) for all non-NIOSH (National Institute for Occupational Safety and Health)-approved disposable respirators, including imported disposable respirators such as KN95s. At the same time, the FDA revoked EAUs for decontamination and bioburden reduction systems for reusing respirators.
The FDA notes that early in the COVID-19 public health emergency, the EUAs for non-NIOSH-approved respirators and reusing decontaminated disposable respirators were necessary because of a severe shortage in NIOSH-approved N95s. However, as access to domestically manufactured NIOSH-approved N95s improves, health care organizations should transition away from the crisis capacity conservation strategies used at the onset of the pandemic.
The revocation of the EUAs also meet recommendations by the Centers for Disease Control and Prevention (CDC) that health care facilities end their crisis capacity strategies and promptly return to conventional practices. The revocation also meets the requirements of OSHA's Emergency Temporary Standard, which calls for health care employers to provide NIOSH-approved or FDA-authorized respirators for workers potentially exposed to COVID-19.
According to the FDA, NIOSH has approved more than 875 respirator models since the beginning of the pandemic, with approximately 20 manufactured by new, domestic NIOSH-approval holders. There are currently more than 6,400 total respirator models or configurations on the NIOSH-certified equipment list which have met the NIOSH-approved EUA criteria and are FDA-authorized, including more than:
600 filtering facepiece respirator models (of which there are over 530 N95 models),
5,500 elastomeric respirator configurations, including new elastomeric respirators without an exhalation valve, and
360 powered air purifying respirator configurations.
The FDA also withdrew two related decontamination and bioburden reduction guidance documents. The agency recommends that health care personnel return to earlier guidance that includes using a single-use respirator for single-patient interactions as appropriate.
This article was written by Lisa Neuberger of J. J. Keller & Associates, Inc.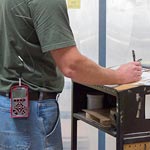 Looking for more on workplace safety?
Get the information and products you need to stay on top of industry changes and comply with regs.