EEO-1 workforce data collection deadline extended (again) to August 23, 2021
Posted July 2, 2021
On June 28, 2021, the Equal Employment Opportunity Commission (EEOC) announced it's bumping back the 2019 and 2020 EEO-1 workforce data collection deadline to Monday, August 23, 2021. The previous deadline was July 19, 2021.
The reason for the extension is because of the extra work on employers' shoulders to pull together two years' worth of information, and because of the ongoing pandemic challenges.
After delaying the opening of the 2019 EEO-1 data collection because of the pandemic, the EEOC began collecting both the 2019 and 2020 EEO-1 data on April 26, 2021.
The EEO-1 report, usually submitted electronically, is a mandatory annual data collection that requires all private sector employers with 100 or more employees, and federal contractors with 50 or more employees meeting certain criteria, to submit demographic workforce data, including data by race, ethnicity, sex, and job categories. The collection does not include pay information.
This article was written by Michelle Higgins of J. J. Keller & Associates, Inc.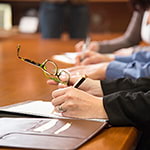 Looking for more on HR compliance?
Get the information and products you need to stay on top of industry changes and comply with regs.