Coming attractions from the regulatory agencies!
Posted July 8, 2020
Twice a year, the government agencies such as the U.S. Department of Labor (COL) and the Equal Employment Opportunity Commission (EEOC) provide a list of the tasks they plan on tackling in the upcoming months. That list came out recently and the agencies had a number of interesting employment-law-related items on its to-do list, including the following:
The DOL is proposing a regulation for determining independent contractor status under the Fair Labor Standards Act. A proposed rule was scheduled for June 2020. Obviously, the DOL missed this deadline, but this is something to look forward to as this issue has been making headlines.
Got input on the FMLA? The DOL is planning on soliciting comments on ways to improve its FMLA regulations to better protect and suit the needs of workers and reduce administrative and compliance burdens on employers. Now's your chance to tell the DOL what your FMLA challenges are. If you ask that they eliminate an employee's right to unforeseeable, intermittent leave, you will likely not get the response you want. That's written into the law; in order for that to change, the law would need to change. Talk to your members of Congress.
Scheduled for a November release, the DOL is looking to revise the existing "dual jobs" regulation to provide greater clarity, consistent with current guidance, regarding an employer's ability to take a tip credit to satisfy minimum wage obligations for time spent by a tipped employee performing duties that are related to the employee's tipped occupation.
Remember the temporary requirement to provide pay data to the government on the EEO-1? Looks like we might be seeing this again, or something like it. The EEOC is considering a rule that may include a new reporting requirement by which employers would submit pay data or related information as reasonable, necessary, or appropriate for the enforcement of title VII of the Civil Rights Act of 1964 and the Equal Pay Act. The EEOC would seek public comment regarding the potential benefits to its enforcement of anti-discrimination laws, appropriate methods of collecting pay data, and burdens on respondents to collect and report pay data or related information under proposed alternatives as well as other alternatives suggested by commenters.
This month, we may see proposed rules regarding wellness program incentives in relation to the Americans with Disabilities Act and the Genetic Information Nondiscrimination Act. We had regulations in 2016, but they were challenged and subsequently rescinded.
The EEOC is also looking into how it analyzes the common law agency standard for determining whether an entity and a worker are in an employment (i.e. employer-employee) relationship and whether two entities are joint employers for purposes of the federal EEO laws such as Title VII of the Civil Rights Act, the Equal Pay Act, and the Americans with Disabilities Act. Proposed rules are expected this month.
As a reminder, the DOL's fluctuating workweek final rule that was published in June becomes effective August 7, 2020. As always, stay tuned!
This article was written by Darlene Clabault of J. J. Keller & Associates, Inc.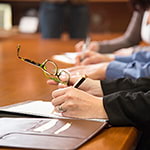 Looking for more on HR compliance?
Get the information and products you need to stay on top of industry changes and comply with regs.