Employees sue over large wellness incentives
Posted July 26, 2019
An employer's wellness incentive penalties were high enough that over 5,000 employees brought a class action suit. The employees were required to participate in the company's wellness program or pay a fine adding up to $1,300 annually.
The penalty in the employer's program is among the highest in the country, deducting $25 from non-participants' weekly paycheck. The program required participants to undergo a health risk assessment, which involved divulging protected information (including prior insurance claims data) and submit to invasive medical exams and testing, that included a strict schedule of exams, testing, and vaccination, including mammograms, colonoscopies, and blood testing. Some participants were also required to consult with a health coach if they had certain risk variables. These mandates, employees thought, along with the penalty, made the program less than voluntary, as would otherwise be required under the Americans with Disabilities Act (ADA) and the Genetic Information Nondiscrimination Act (GINA).
Under the ADA, an employer is prohibited from requiring a medical exam or making medical inquiries of an employee, unless the employer has a reasonable belief, based on objective evidence, that the employee is unable to perform the job's essential functions because of a medical condition, or the employee will pose a direct threat because of a medical condition. The ADA has a narrow exception to this, regarding wellness programs, as long as the inquiries and exams are voluntary. The GINA provisions are similar, but they apply to genetic information, which can come from family members.
In 2000, the Equal Employment Opportunity Commission (EEOC) indicated that a wellness program is voluntary as long as an employer neither requires participation nor penalizes employees who do not participate. Fast forward to 2016, when the EEOC had rules regarding incentives for wellness programs, and the rules allowed employers to impose financial penalties for non-participation in a wellness program without rendering the program involuntary. The limit for such penalties was 30 percent of the insurance premium an individual would pay.
The EEOC was sued over the rules, however, and they were struck down, leaving employers with no real guidance regarding incentive levels. In the meantime, the company in the law suit established its new wellness program.
This case is still underway, so we won't know the outcome for a while. The EEOC is working on new regulations regarding such incentives, which are scheduled for December 2019. This case and the upcoming rules act as reminders for employers to keep an eye out the results and the rules, so they can act to steer clear of a similar situation.
Kwesell, Tureckek, Schwartz, et al, v. Yale University, D.C. Conn., No. 3:19-cv-1098, July 16, 2019
This article was written by Darlene M. Clabault, SHRM-CP, PHR, CLMS, of J. J. Keller & Associates, Inc.
---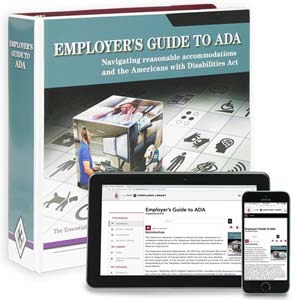 J. J. Keller's Employers Guide to ADA Manual helps you navigate the often-murky waters of the Americans with Disabilities Act (ADA).
---
J. J. Keller's FREE HR SafetyClicks™ email newsletter brings quick-read safety and compliance news right to your email box.